Serving Richmond and the surrounding area since 2015
Freezone assists customers all throughout Richmond, VA, and the surrounding area. If you have questions about our service area, don't hesitate to call us at (804) 399-1234.
Need to request service? We're open for business 24/7! Do not hesitate to call us if you're having an HVAC emergency. You can also reach out to us during normal business hours, which are Monday through Friday, 8:00 AM to 5:00 PM. Additional charges may apply after hours or on the weekend.
Welcome to the "Free Zone"
Get to know the "Free Zone!"
The Free Zone is our way of giving back to our customers and making their service more affordable. If you are located within a 10-mile radius of our office, we'll waive your diagnostic fee. No strings attached. Even if you don't complete the repair with us, your diagnostic is still waived!
Freezone is located at 6802 Atmore Dr., in Richmond City, just off the Midlothian Turnpike. We've provided a map of our Free Zone below for your convenience. If you're on the edge of our radius, don't worry. Simply call us at (804) 399-1234 and we'll let you know!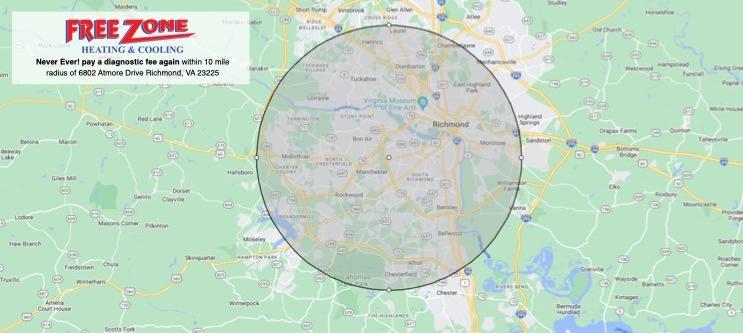 Beyond the Free Zone: We service ALL of Richmond and the surrounding area
Our technicians and installers proudly service the following cities and towns across Chesterfield, Midlothian, Henrico, and Glen Allen Counties:
Afton
Atlee
Bellwood
Bensley
Bon Air
Chamberlayne
Chester
Chesterfield
Dumbarton
East Highland Park
Henrico
Highland Springs
Glen Allen
Innsbrook
Laurel
Lorraine
Manchester
Mechanicsville
Midlothian
Montrose
Rockwood
Tuckahoe
Request a Service Visit with Freezone Today