The Freezone Annual Maintenance Contract
For homeowners that love saving money on home services, Freezone's maintenance contract is for you!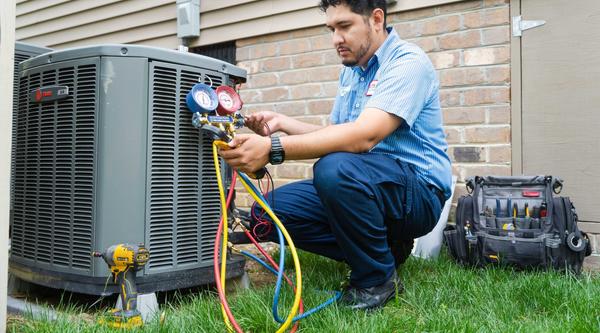 Managing your home's heating, ventilation, and air conditioning (HVAC) systems can become a significant expense over time. Inefficient systems can cause energy bills to soar. Repair costs can quickly spiral out of control if a system's warranties aren't maintained. And what if you have to replace your system years earlier than you originally assumed? Thanks, but no thanks!

But what if you could protect your HVAC system, ensure fewer (if any!) surprise breakdowns, AND keep it humming for years beyond its expected lifespan? Most homeowners would jump at the chance. The good news is, all it takes to make that happen is regular maintenance. And when it comes to regular maintenance, nobody in Richmond gives you a better deal than Freezone Heating & Cooling.

What's different about our Planned Maintenance programs?
Customers get a choice in their maintenance package: Silver or Gold
Maintenance visits are performed by a licensed and certified technician, every time
We offer deep discounts on repairs AND replacements depending on the plan
Plan members enjoy even faster response times with priority service
Plans
SILVER PLAN
Seasonal tune-up included*
10% discount on all repairs
Priority service
1 visit per year
1-year, 100% guarantee on all repairs
Satisfies manufacturer warranty requirements
GOLD PLAN
Our Gold Plan includes TWO seasonal system inspections (spring and fall) to ensure your home is comfortable and efficient all year long. It also includes:
Seasonal tune-up included*
10% discount on all repairs
5% discount on system replacement
Guaranteed 24/7/365 priority service
No trip or overtime charges - EVER
1-year 100% guarantee on repairs
Priority installations
Exclusive member-only discounts and deals
Satisfies manufacturer warranty requirements
Have a question regarding a maintenance plan? We're happy to help! Call us at (804) 399-1234, or contact us online.
*For your seasonal system inspection, we'll send a licensed expert to your home and make 20 critical adjustments to your system to ensure it's ready for the upcoming season (summer or winter). You can learn more about what's included in a seasonal repair by visiting our tune-up page.
Join Freezone's Maintenance Club Today and Start Saving!